Rugby League 2023 review – my reflections on the year – Part One
Just like that, it's over. I still can't quite believe we've seen the last of Rugby League for 2023, and with the nights drawing in and nothing on the horizon until February, I could quite happily hibernate for the winter. But before I do, here's my own personal look back on 2023.
February
My first game of the season came on the opening weekend, when I visited Craven Park for the first time to watch Wigan take on Hull KR.
I'd been in two minds about going, but as always, I certainly didn't regret it, despite the result. I don't remember many specifics from the game, just Shaun Kenny-Dowall having a stormer and Wigan looking distinctly off colour, but regardless, I was just delighted to be back watching a game. And the highlight of the day was discovering a new band in The K's, who performed before the game and at half-time.
That was it for me in February, but getting one game in was a nice little bonus!
March
I wasn't actually due to go to any games this month, but when me and my girlfriend, Sam, had to cancel a trip to Vienna due to her having a stress fracture in her foot, I knew exactly what we would do on Friday 24th instead.
I mean, it might not have been the home of Mozart and the Spanish Riding School, but the DW wasn't a bad substitute as far as I was concerned. And after all, we still had the time off from work, so why not make the most of it with a Wigan game.
Due to Sam's unfortunate injury, we had to mix up our usual pre-match routine, but it made a nice change. First, there was a trip to Down Under Leisure to stock up on some new Rabbitohs gear, then instead of our usual trip into town and the walk along the canal, we headed straight to the the Red Robin for a pre-match dinner and to park up by the ground.
As for the match, Wigan ran out 20-16 winners, but my abiding memory is arriving home around 2am, and Sam telling me she'd never come on a Friday night again (we'll see!)
April
Now this is when the season really started for me. If the Good Friday derby is at the DW then I'm always there, so when the fixtures were announced, I put this one straight in the diary.
It's one of the few Wigan fixtures that Sam commits to as well, so it was great to head up with her again on 7th April for what turned out to be an excellent Wigan win. To be fair, Saints looked a bit out of sorts at that time, but I didn't care, and most of the whopping 24,275 people in the crowd didn't either!
As for me, usually I leave with mixed emotions as I don't know when I'll be back, but given that Wigan's first afternoon home game of the season was taking place two weeks later, I already had my next game lined up.
Fast forward to 23rd April and I was delighted to be taking my mate, Henry, along to his first ever match. He'd come with me to a double header at the Wheelchair World Cup, but this was the first Super League game he was coming to, and I told him to expect a one-sided walkover as winless Wakefield were in town. What followed over the next 80 minutes was one of the worst games I've seen, as Wigan eased past Trinity 22-6, without ever looking threatened. At least, I visited the fan village at Robin Park for the first time though, and I was very impressed.
Before the game I was back to my usual routine of parking in town, visiting Pound Bakery for a meat & potato pie – plus anything else that looks good – and then taking the 25-minute stroll along the canal to the stadium.
Whether it was the pie, the canal walk, the fan village or the game, something must've stirred inside Henry at least, as he agreed to come back again.
May
May started with a couple of nighttime games, which sadly meant I had no chance of going, however as soon as BBC chose the Challenge Cup tie against Leeds Rhinos for a Saturday afternoon, that was my day sorted on 20th May. Once again, Henry was bang up for it, which was fantastic considering the Wakefield game a few weeks earlier.
This was only my second visit to Headingley. The first came seven years' earlier when Johnathan Thurston's North Queensland Cowboys were in town for the World Club Challenge, and I was very impressed with the work that's been done to the stadium in the meantime.
That's except for the Western Terrace of course, which clearly hasn't been touched in decades. And yet, I loved every second of it! Standing out on the terrace cheering Wigan to a tight 14-18 win was one of the highlights of the year, and not that I knew it yet, but there would be two more trips to Headingley before 2023 was done.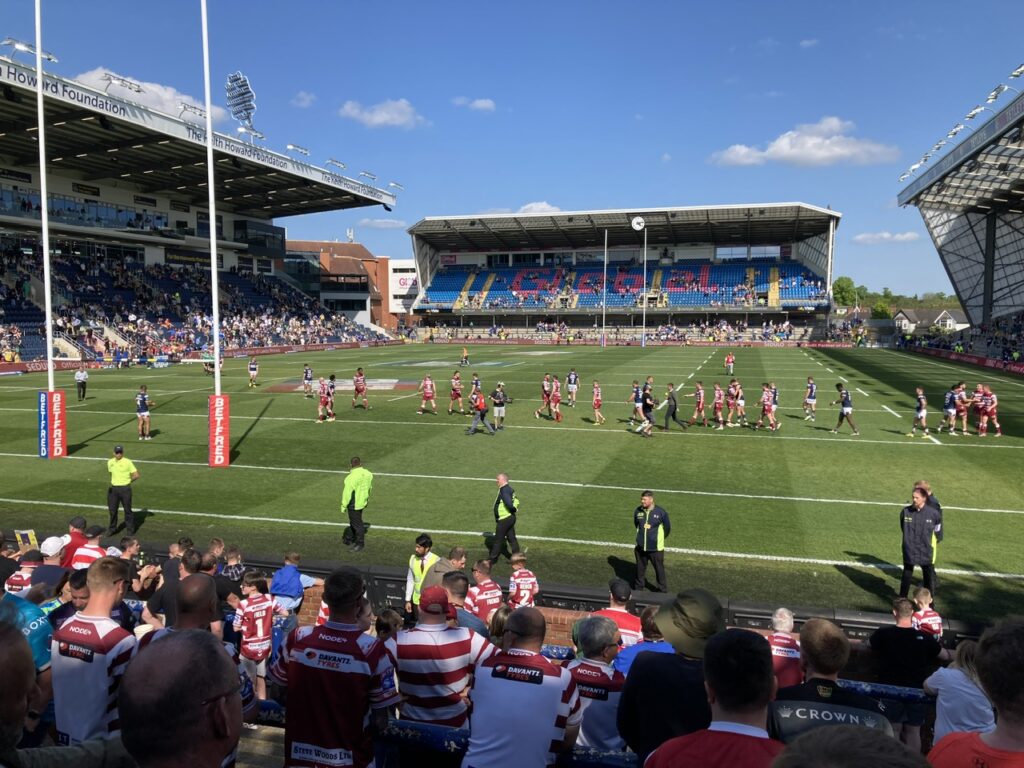 June
Dreadful month on the Rugby League front for me, as this turned out to be one of only two months of the season when I didn't make it to a game.
Now usually I can deal with it if games are taking place on Friday nights, because it would be impossible for me to work and still make it there, but frustratingly there was a Sunday afternoon Challenge Cup tie against Warrington this month, but I was in Turkey on holiday. Not a bad substitute though!
The following week was another near-miss as we arrived back late on the Saturday night and I was debating whether to shoot up to Salford for the Sunday afternoon game before going back to work the following morning. Sam convinced me it would be a bad idea though and I knew she was right, although a far more ridiculous trip was to come a few months later…