Rugby League 2023 review – my reflections on the year – Part Two
July
After a tough June with no Rugby League, I more than made up for it in July, getting to three games in total.
First up was a trip to Ebbsfleet of all places on 8th July to watch London Broncos take on Toulouse. I've only been to see the Broncos once since their move to Wimbledon and that was because I had two free hospitality tickets. The stadium's such a hassle to get to that I don't bother, but when I heard that they were taking a couple of games to Kent, which is a far easier drive, I thought why not give it a go.
The week before, they faced Newcastle Thunder at the same ground, and while I toyed with the idea briefly, I decided I'd wait until the following week for the Toulouse game. London came home with a 22-6 win, and we all know what happened when they faced them again in October. As for the Ebbsfleet ground? Put it this way – it wouldn't be my first choice for a Rugby League stadium.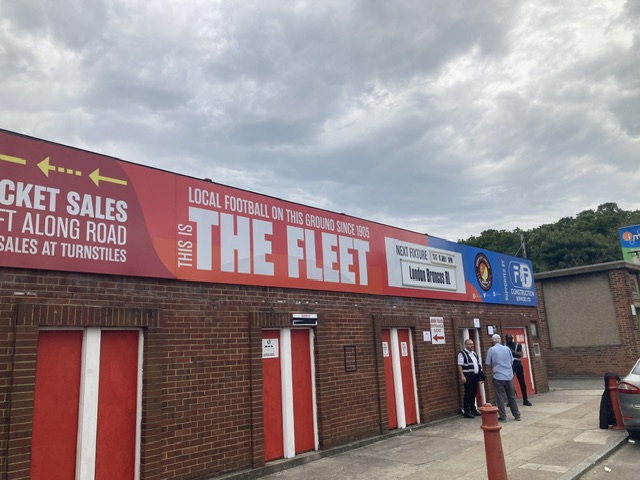 Two weeks after my trip to Kent, I was back at Headingley for the second time in 2023, as Wigan faced Hull KR in the Challenge Cup semi-final. Joe Shorrocks' harsh red card is my main memory from the game. Of course there was Brad Schneider's winning drop goal as well, although I've tried to erase all memory of that one! In fairness though, the roar from the KR fans as that sailed over was one of the loudest I've ever heard, and once the disappointment of Wigan's loss eased, I was quite excited for a Hull KR vs Leigh cup final.
Speaking of Leigh, I saw them the following week as I was back at the DW again to see them play Wigan. The game was originally meant to be on a Friday night, but as soon as Channel 4 switched it for the Saturday lunchtime slot, I had to go. Wigan's comfortable 44-18 victory was, as it turned out, the start of a magical run of 10 straight wins, culminating in the Grand Final at Old Trafford. Not that I knew that at the time of course – I just thought Leigh were suffering a semi-final hangover!
August
Just the one game for me this month but what a game it was, as Leigh took on Hull KR in the Challenge Cup final. This was my 14th Challenge Cup final, but incredibly it was my first trip to Wembley for four years. Well, that's a slight lie, as I was at the Community Shield the week before to see Arsenal play Manchester City, but this was my first Rugby League match at the national stadium since the 2019 final.
As is now tradition, Sam was with me for this one, and Henry came along with his new girlfriend too, for what was her first ever Rugby League game. Hopefully she left impressed. The 17-16 win for Leigh with Lachlan Lam's golden point drop goal certainly impressed me. I'm just gutted there weren't more people there to see it. The Challenge Cup final is always one of my favourite days of the year, regardless of who's playing, and it's a shame it doesn't get the crowds it deserves.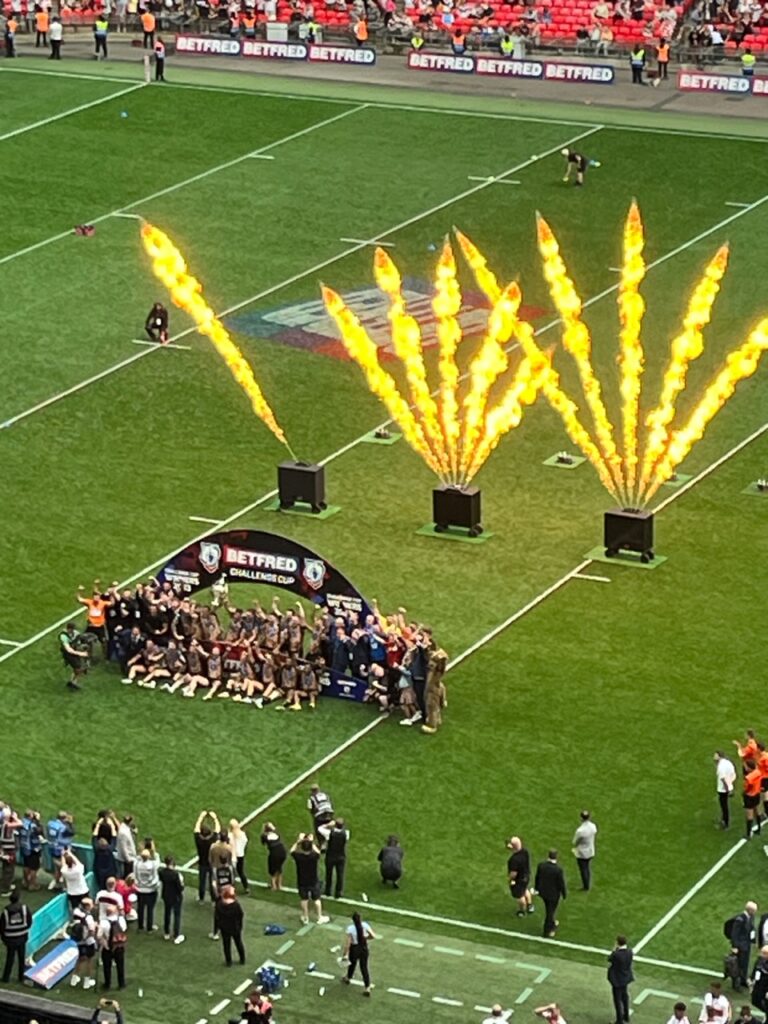 September
Just the second month without going to a game for me, although I was away for much of the month so I can't complain.
Missing Leeds away was a bit disappointing, but as me and Sam were going to Seville for a few days, I didn't get too upset about it. And when I saw the 50-0 result, I wasn't overly disappointed about missing such a one-sided game.
October
My favourite night of the year – the Grand Final! I could've made the semi-final against Hull KR the previous week, but as we had plans in the evening and I would've been relying on having a very smooth drive home, I gave it a miss, much to my disappointment as Wigan steamrollered Rovers. In fairness, I nodded off for the final 20 minutes, it was so one-sided.
Anyway, fast forward a week and I'm off to Old Trafford with Sam and her parents. Usually it's just the two of us and we head there and back on the day, but as her Mum and Dad were joining us for their second Grand Final, we stayed over and made a weekend of it in Manchester.
I saw a lot of negative comments about the game in the aftermath, but personally I thought it was a brilliant match. The first half was a good old slog with neither side giving an inch, and I loved the fact it was only 2-2 at the break. Come the second half, Wigan started to grind Catalans down, and a few bursts from Jai Field opened up the Dragons defence and swung the game in Wigan's favour. It might not have been as entertaining as most people expected, but for a good 50-60 minutes, it was an enthralling contest in my eyes at least, although I sat there very comfortably throughout the second half, knowing that Wigan would get the job done.
And now we move on to that ridiculous trip I mentioned in part one. So, a few days after Old Trafford, I visited Helsinki with Sam. Knowing that England were playing Tonga the following Sunday, I made sure that we'd be back in time for that game, although I certainly hadn't planned for it to pan out the way it did. To cut a long story short, I arrived home on the Saturday night at 2.30am, and by 8.30am, I was setting off for the drive up to St Helens. Luckily I had Henry with me yet again to keep me company on the journey, and I can honestly say I felt fine until about 8.30pm when I was on the home straight back to my house.
As it turned out, I'm glad I went, as this turned out to be the best of the three tests, and the only one in which Tonga caused England any problems.
The following week, I had tickets for the second test as well, but a work trip to Turkey meant I couldn't go. Despite my best efforts to shift the tickets, they ended up going unused, but fortunately I still had one more game to go in 2023…
November
First weekend of the month and the final game of the year. This turned out to be my third trip to Headingley this year, and it was the first time I had a seat!
I was quite impressed with the East Stand, and there were plenty of places to get food from outside. The crowd was pretty good too, but as for the game, it all felt a bit flat as England ran away with a comfortable win.
I was still sad to see 2023 come to a close, but what a year it's been!
12 games attended in all. Not a bad effort considering the closest stadium I went to was 50 miles away, and my team's home stadium is 175 miles each way! Fingers crossed, I can make it to more games next year though. Those two months without a live game were tough!