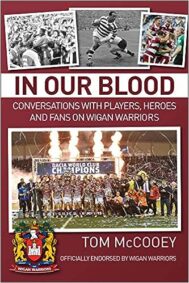 In Our Blood: Conversations with Players, Heroes and Fans on Wigan Warriors
Read the stories behind Rugby League's most successful club, from former players to lifelong fans.
Walk into an office, shop, pub or house in Wigan and there is a good chance people will be talking about the rugby. Whether the going is good or not, Wigan Warriors are the topic of conversation underpinning the hum of any day. "It's in our blood," sing the Wigan Warriors fans during their weekly ritual of going to the rugby. But what does that actually mean? To them, it's a lot more than watching 26 blokes smash hell out of each other once a week. Why does watching a game take centre stage in the lives of those who make trips to places like Hull, Castleford and Perpignan to watch, cheer and barete their heroes? And what about the players on the pitch, now and in the past? Even supporters of rival clubs will concede Wigan is special – whether that's in admiration or envy. Trophies provide regular milestones in a history dotted with some of the best players that have ever held a rugby ball. Through their own words, supporters, players, heroes and not such heroes talk about what Wigan Rugby League means to them, and why when the full-time hooter goes this rugby-obsessed group of people don't switch off.
Publisher Name
JMD Media Ltd