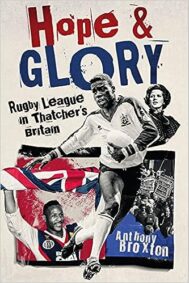 Hope and Glory: Rugby League in Thatcher's Britain
A look back at Rugby League's rise in popularity during the 1980s, against all odds.
Hope and Glory recreates the extraordinary era of Thatcherite Britain with the dramatic tension of a novel, revealing it as a critical moment in rugby league history when despite losing everything, anything seemed possible.
Rugby league should never have survived Thatcher's Britain. As the sport of the working class, the expectation was that rugby league would suffer the same fate as the textile mills, factories and coal mines that once surrounded it. Having declined in the 1970s, the sport appeared to be at the point of no return in 1982, when the Australian team destroyed any remaining illusions of 'British exceptionalism'.
But as it often does, rugby league found a way to turn itself around. From the pit villages which fought industrial decline to the players who ushered in the new professional era, the 1980s was the decade when rugby league finally came of age. By the 1990s, there was an optimism that it could even replace football as the global game for the 21st century.
Original Title
Hope and Glory: Rugby League in Thatcher's Britain
Publisher Name
Pitch Publishing