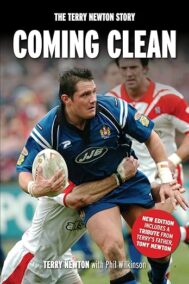 Coming Clean: The Terry Newton Story
The full behind-the-scenes story of the late Terry Newton.
The late Terry Newton sparked controversy from his earliest days in rugby league. Initially signing at 14 for Warrington, he also signed for Leeds on his 16th birthday, missing the entire Centenary season until Leeds won the resulting tribunal. A phenomenal hooker for Leeds, Terry went on to star for Wigan, Great Britain, Bradford and finally Wakefield. Coming Clean is the startlingly frank yet honest story of the highs and lows of Terry's career and life, from his tough upbringing in Worsley Mesnes, through rugby league success to the recent tragic death of his sister and his own career-ending drugs ban. Now notorious as the first ever sports person to test positive for taking the banned drug Human Growth Hormone, Terry explains what drove a star player to end a glittering career in such a cloud of controversy. Love or hate the bad boy of rugby league, his story will make you laugh, cry and feel despair in equal measures. This new edition includes a tribute from Terry's father Tony Newton.
Original Title
Coming Clean: The Terry Newton Story
Publisher Name
Vertical Editions