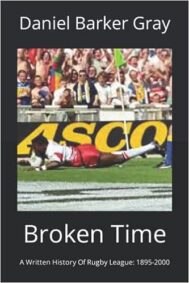 Broken Time: A Written History Of Rugby League
A look back on Rugby League's colourful history.
Broken Time aims to tell the story of the first 105 years of Rugby League history on a domestic and international level.
Read on to learn of expansion, innovation and exciting on-field action as we dive deep into the annals of the last true working class sport's history.
Original Title
Broken Time: A Written History Of Rugby League
Publisher Name
Independent