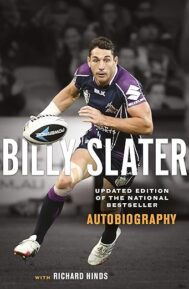 Billy Slater Autobiography
The autobiography of Melbourne Storm, Queensland, and Australia legend, Billy Slater.
During a long and decorated career with the Melbourne Storm, Queensland and Australia, Billy Slater has forged a reputation as not merely one of rugby league's great fullbacks, but as one of the best players in the game's long history. Slater's story is that of a young country recruit with superb natural talent who rose quickly to the top level, playing with the Storm after just one pre-season in Melbourne and starring for Queensland during just his second season in the NRL. But inside the player who has scored so many audacious tries on the game's biggest stages is a fierce competitive drive and a relentless work ethic, one inherited from parents who worked tirelessly to provide for their two children. In his fourteen years in the NRL, Slater has been confronted by the Melbourne Storm salary cap scandal, career-threatening injuries, the disappointment of lost grand finals, a game-losing mistake with the Kangaroos and accusations about his allegedly rough style of play. Slater has emerged not merely as a great of the game, but as an even more resilient character, a respected spokesman for his sport, a devoted husband and father, and – in a moment of emotional vindication – a member of the Storm's defiant 2012 premiership team. Billy's story is told with contributions from Slater's family, as well as other rugby league legends like Cooper Cronk, Craig Bellamy, Darren Lockyer and Cameron Smith.
Original Title
Billy Slater Autobiography
Publisher Name
Ebury Australia